HanHemen is set up as a digital and global platform, targeted to Basque people, with the aim of connecting, exchanging information and resources, as well as sharing experiences, regardless of where we are. It is of interest to us to give a voice and listen how Basque men and women live "the global" thing, learning and experiencing to be a Basque and global citizen; observing and living "the international way", from a Basque point of view, regardless of "where we are".
In a post-pandemic situation, we are experiencing never before imagined changes, both globally and individually. Therefore, we propose a digital space where, here and there, Basque people can connect, interact and share all kinds of experiences, projects, situations, emotions and motivations.
All of this in a growing digital transformation, placing the Basque Community at the centre, which is hyper-connected on a global level.
Basque Country
Basque Country
Spain
Spain
Belgium
Belgium
Germany
Germany
Sweden
Sweden
France
France
Italy
Italy
Ireland
Ireland
United Kingdom
United Kingdom
Chile
Chile
Venezuela
Venezuela
Singapore
Singapore
Canada
Canada
USA
USA
Mexico
Mexico
Costa Rica
Costa Rica
Argentina
Argentina
Uruguay
Uruguay
Brazil
Brazil
Peru
Peru
HanHemen is the new digital space of the Global Basque Community, which aims to build, in real time, a new digital model that re-constructs the Basque identity by reducing the distance between the ''here'' and ''there'', regardless of where the global Basque phenomenon is viewed and observed from.
Promoting international interaction, practicality and proactivity is HanHemen's core.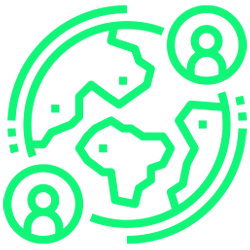 Digital and global Basque reference
An open platform, a point of reference for Basque men and women all over the world, those 'here' and 'there', regardless of the place it is for each person. The global phenomenon is being lived in the digital space in a hybrid way: one can coexist the 'here', and 'there', and share it. Each person shows a diverse and rich international route in its plurality. We are interested in listening to it, seeing it, living it…
The Basque Community in the centre
People, hyperconnected and synchronised, become key players, making an ethical and sustainable use of hyperconnectivity when seeing the excesses and risks of loss of privacy and the lack of protection of our data.
HanHemen is aware of the physical and geographical borders that exist in the world and that have only been reinforced by the pandemic. But beyond these borders, HanHemen believes that Basque people can globally share identity and projects in the digital space (and indeed, in many places around the world). That is why it is committed to a participative and networked ecosystem involving citizens and institutions.
The digital potential of citizens placed at the centre, protecting their digital rights and privacy, and making intelligent and sustainable use of Basque hyperconnectivity.
Active, practical and dynamic
A lively, interactive and functional space.
Sovereignty, Property, Security
Blockchain security, decentralised networks, data sovereignty, and protection of users' digital rights.
Get in touch with the HanHemen team to participate, make suggestions, proposals or solve any doubts you may have. Thank you for collaborating in the Global and Digital Basque Community!